Workplace Safety
BCPSEA supports health, safety, and wellness in public school districts by providing advice and resources to assist school district staff with interpretation and application of relevant legislation and related WorkSafeBC policy and practice.
Principles for Principals
This document was produced in collaboration with WorkSafeBC in 2012. Although some of the information is now out of date (WHMIS, some internal links, some telephone numbers) much of the information remains useful and applicable. It is not known at this time whether WorkSafeBC intends to update this document.
Click the image below to access the complete interactive document.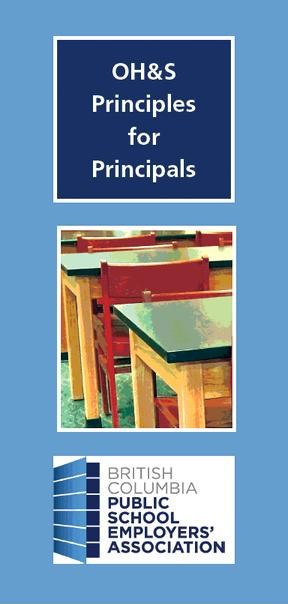 Additional Resources
Online training, tools, and other resources assist occupational health and safety staff to ensure safe and healthy schools/workplaces.
Visit the Central Okanagan School District No. 23 website for more information on SD 23 Online Safety Courses and WorkSafeBC Certification Training.
WorkSafeBC now has a portal with information of interest to the K-12 Education Sector.  It contains numerous posters and videos relevant to school employees: WorkSafeBC Education Sector
Asbestos Management Program
All school districts are expected to have an Asbestos Management Program.  Workers in the public school sector who work in proximity to asbestos containing materials may face a risk of exposure when their work activities disturb materials such as drywall, floor and ceiling tiling, vermiculite, and insulation products.  Workers who are at greatest risk of exposure are facilities managers, custodians, carpenters, electricians and contract workers who may be hired to conduct repairs and renovation work.
WorkSafeBC has an inspection initiative that focuses on asbestos management programs in schools throughout the province.  The objectives of this initiative will be to:
Ensure school boards are in compliance with the Workers' Compensation Act (WCA) and the Occupational Health and Safety Regulation (OHSR) with respect to asbestos management in their schools.
Assess and develop knowledge of workplace parties concerning the hazards of asbestos exposure.
Ensure that workers are familiar with and follow the exposure control plan including reporting of any unsafe conditions as part of the overall asbestos management program.
Focus on identification, assessment, and control of asbestos in your workplace.
Inspect various locations to ensure compliance and verify that asbestos hazards are being effectively managed.
School District Resources:
Below is a link to a school district's Asbestos Management Program.
Asbestos Management Program Exposure Control Plan, SD No. 36 (Surrey)
The School Safety Association of BC members only section of the website includes examples of Asbestos Management Programs that have been developed and implemented in various school districts throughout the province.
WorkSafeBC Resources:
The WorkSafeBC.com web-site has a wide range of online resources to help prevent accidents and injuries.  The following links list tools, publications, regulations, and other resources to help prevent asbestos exposure to workers.  These resources may not meet all of your requirements for health and safety in British Columbia.  Please check the Workers Compensation Act, the Occupational Health and Safety Regulation, and related materials for additional WorkSafeBC requirements.
Useful Links
Additional online resources to support health, safety and wellness.
Visit the BC Centre for Disease Control for helpful information and resources.
Canadian Centre for Occupational Health and Safety School Workers Health and Safety Guide 175K pdf
For information on 'Indoor Air Quality & Tools for Schools Action Kit for Canadian Schools' visit the Health Canada website.